A hand-crafted guide to design thinking, explored through the lens of unfolding.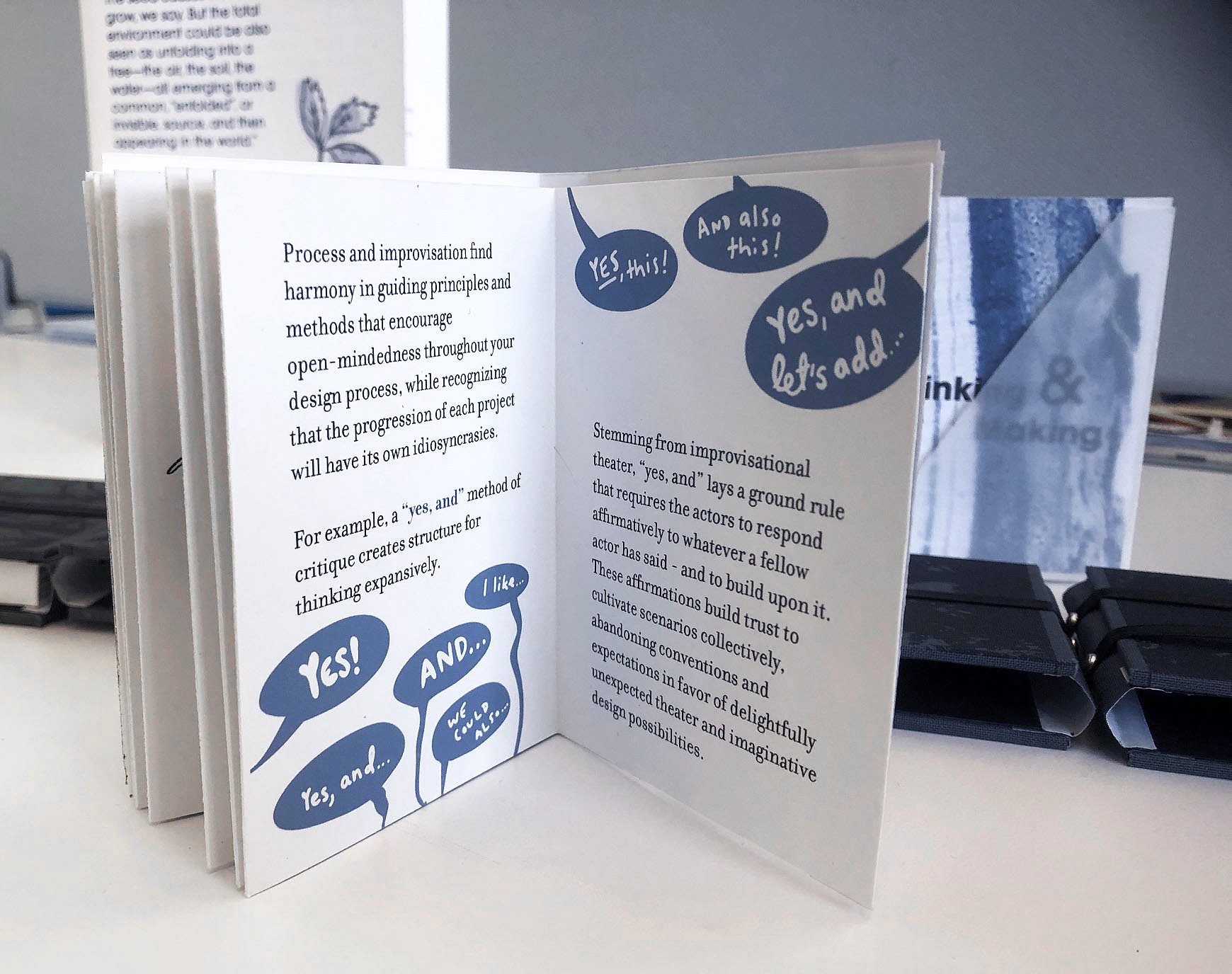 Context
Design Thinking Seminar, Carnegie Mellon University, Fall 2019
Challenge
Research, design and produce a printed and bound
Design Thinking Manual
, introducing the topic to a non-expert reader. Outline key debates, provide design thinking tools and methods, produce original illustrations and diagrams, and use an effective layout to enable readers to "use" the book in different ways. 
Roles
Concept design, illustration, content writing, bookbinding
Tools
Procreate, Adobe Illustrator, bookbinding materials (bookcloth, davey board, vellum, ribbon, envelope fasteners)
Service designers Itziar Pobes Gamarra and Marc Garcia attended our Design Thinking Seminar on their visit to Carnegie Mellon. We discussed 
the the ways in which design exerts ongoing influence on our existence, and how this ontological character manifests in practice. Gamarra suggested design thinking is like an accordion: you can view it as a set of methods, or continue unfolding to reveal its increasing theoretical intricacy. This conversation resonated with me and I decided to focus my manual on design thinking's unfolding complexity.
I brainstormed physical forms of unfolding and was compelled by 
the Jacob's Ladder: it shows characteristics of connection, unfolding, shifting perspective, and the ripple effects of decision-making.
My Jacob's Ladder would contain booklets exploring pairs of ideas more intertwined than they first appear. 
I used timed free-writing sessions and group critiques to explore which concepts were essential to design thinking, settling on 
Process and Improvisation, Thinking and Making, Possibilities and Constraints,
and
Creation and Destruction
.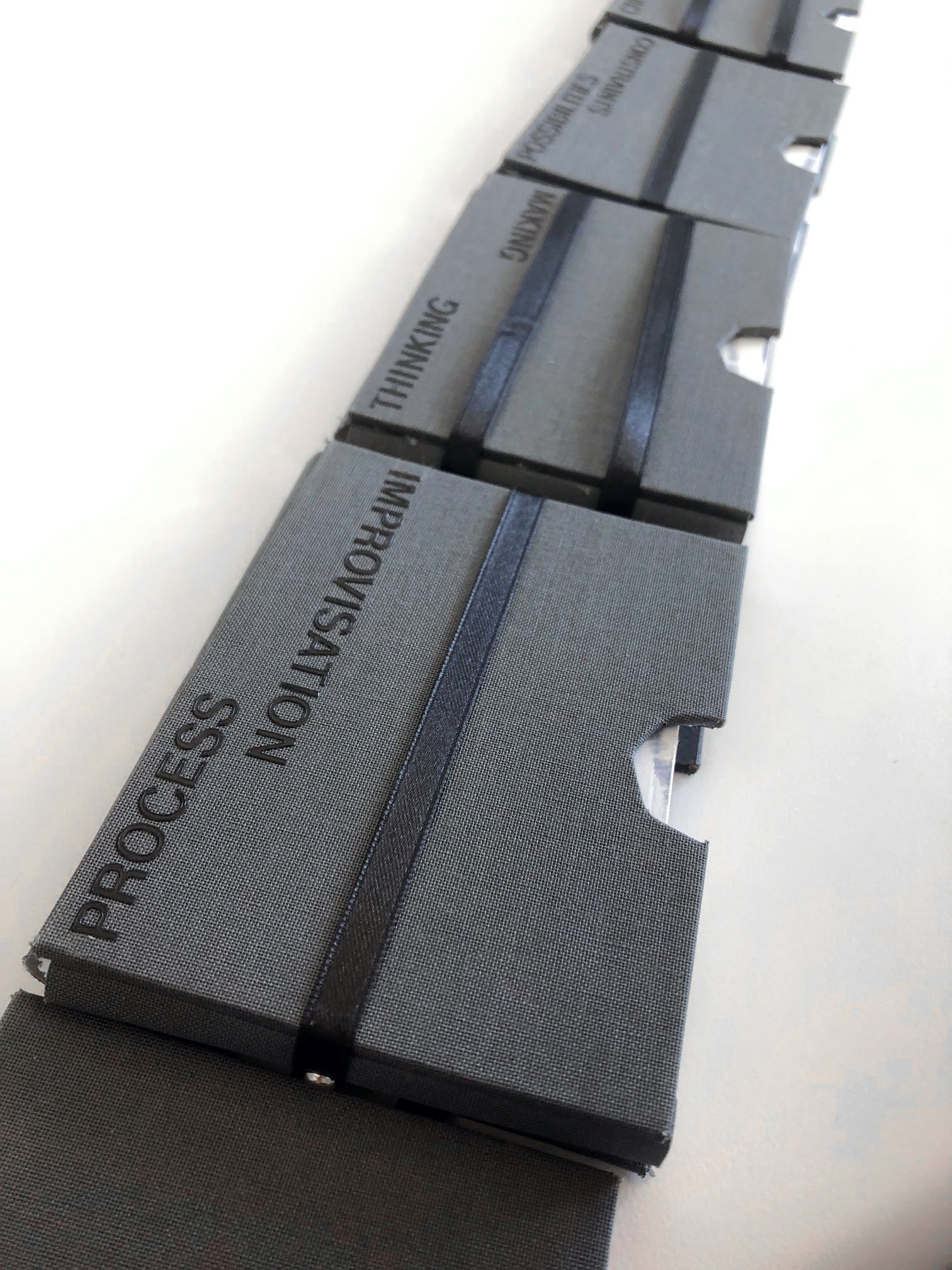 I wanted the booklets to provide an additional layer of unfolding, without content length making the interaction cumbersome. I tried out several different folding forms to find the right one.
I decided to create accordion-folding booklets with removable spines, which would allow for a traditional book-like reading experience and reveal an additional interaction on the interior side. 
​​​​​​​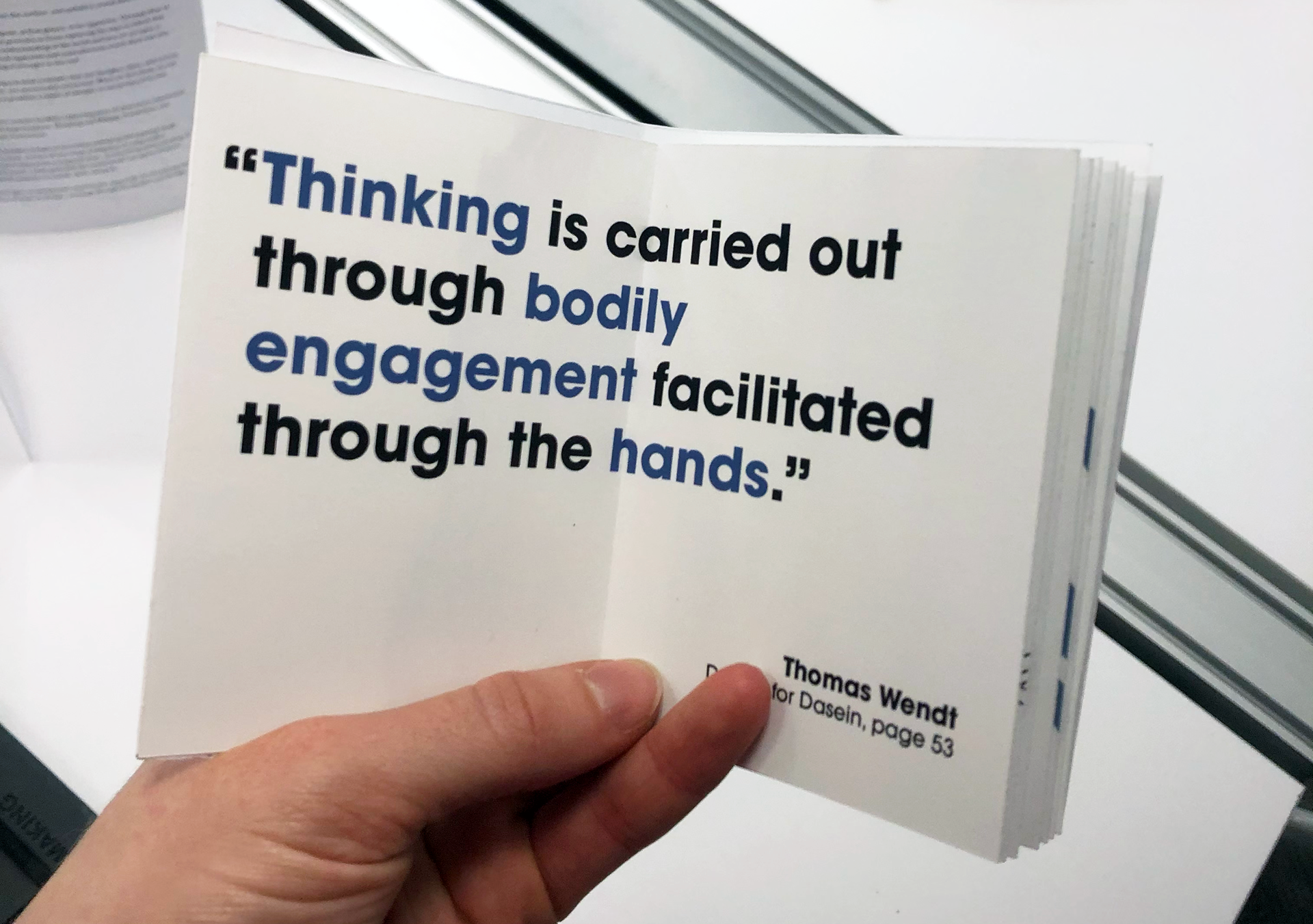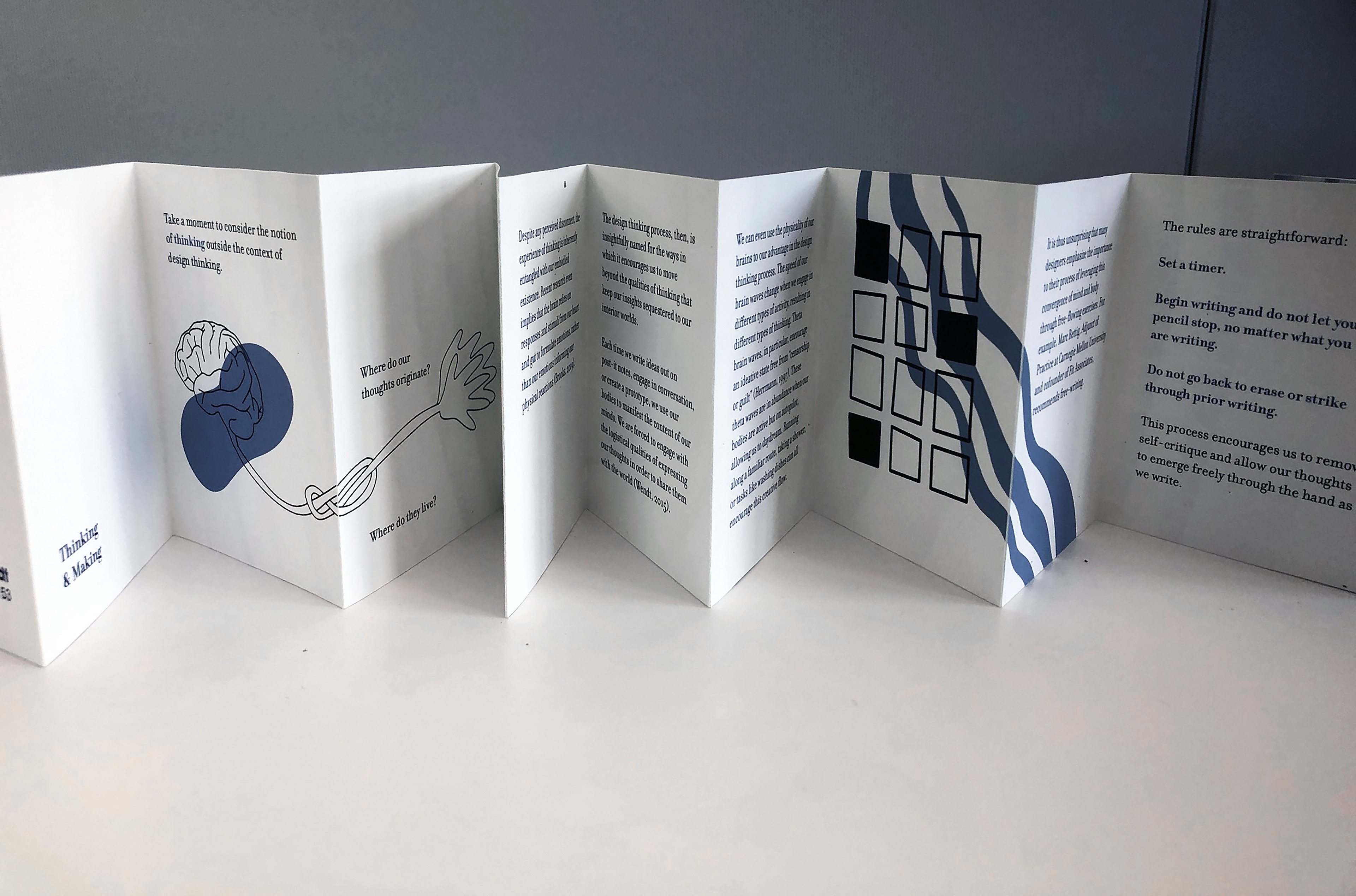 I then created an introductory pamphlet, presented alongside the Jacob's Ladder, to guide the experience.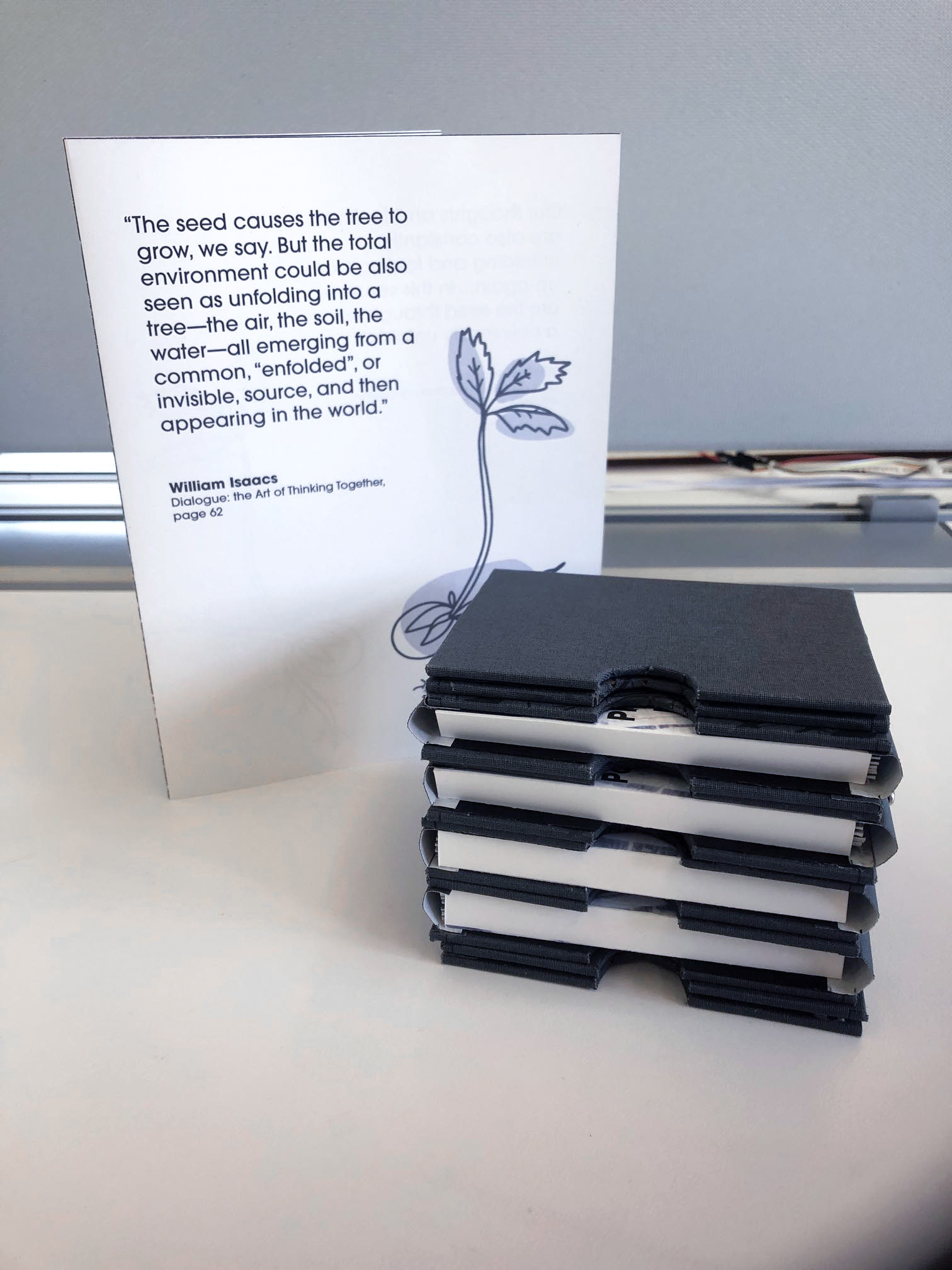 Creating cohesive visuals
I used a
Pinterest board
to collect themes, color palettes, and folded forms that appealed to me. In my reading, I struck upon a quote from William Isaacs that resonated with the idea of unfolding and suggested trees as a compelling motif:

I included this quote on the cover of the introduction, and printed an image of a tree stretching from roots to branches across the length of the Jacob's Ladder.
The accordion pages of the embedded booklets could be unfolded and placed together to reveal a cross-section of tree rings. Tree rings represent a snapshot of compounded moments in time; they would serve as a reminder to the reader that their views on design thinking, and mine, will continue to unfold and grow in new ways. 
I used a cyanotype filter on the tree ring image and created digital illustrations in Procreate using the same dusty blue.