A system of brand guidelines and suggested implementations for the Office of Academic Development at Carnegie Mellon.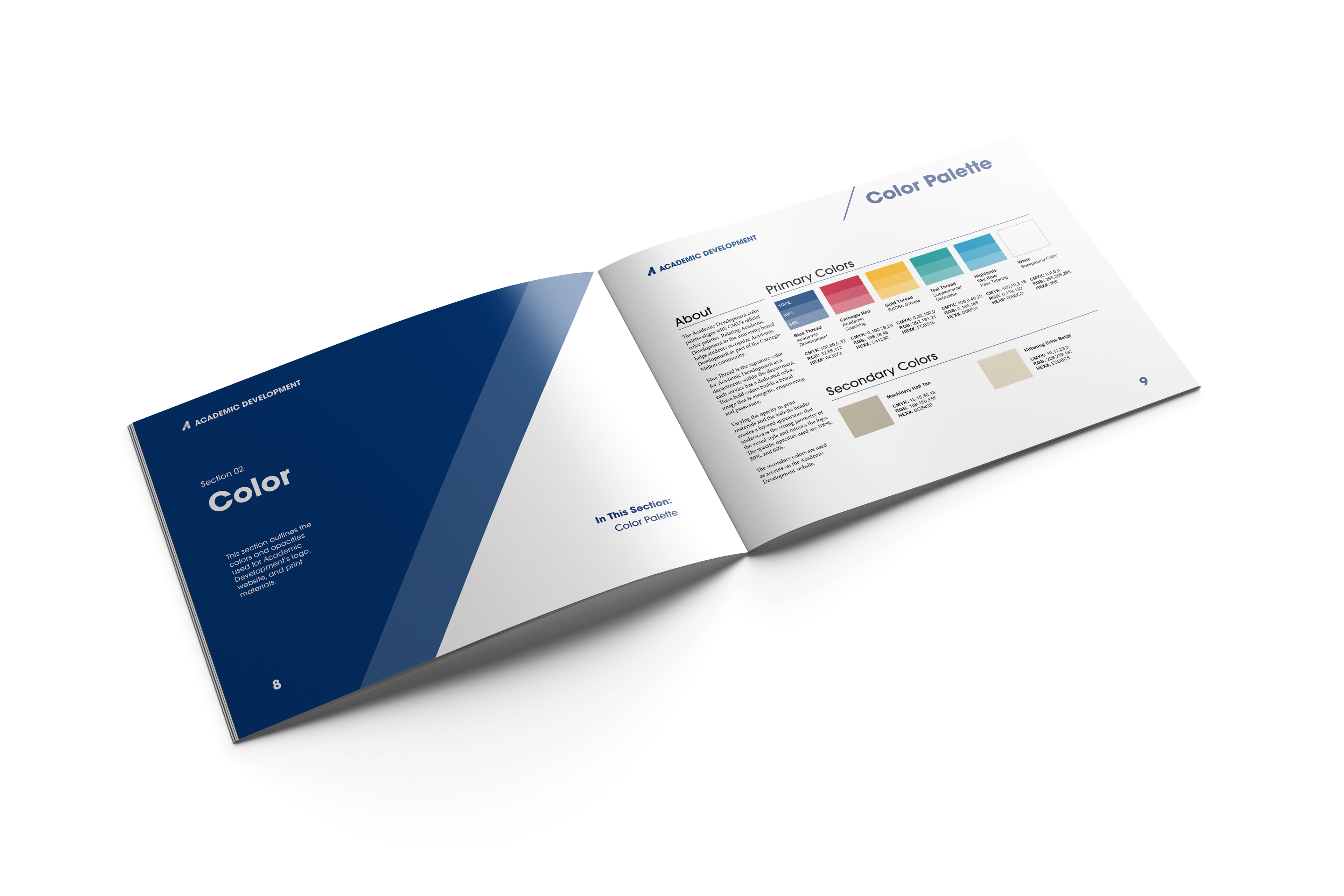 Context
Visual Communication Fundamentals Studio, Fall 2019
Carnegie Mellon University
Client
Academic Coaching program within the Office of Academic Development at Carnegie Mellon University
CHallenge
Working as a two-person team, design a
visual communication system
for the Academic Coaching program in the Office of Academic Development at Carnegie Mellon University, including other stakeholders as deemed necessary. 
Deliver an implementation guide and presentation to the Academic Development team.
Team
Catherine Yochum and Yuchuan Shan
Tools
Adobe InDesign, Adobe Illustrator, Figma, LucidChart, Adobe XD
Roles
Research, visual design, brand voice development, information architecture, wireframes, implementation guide layout
Academic Coaching has seen proven positive results through their  positive psychology driven approach. Yet many students on campus are not even aware that the service is available.
With an upcoming move to an upgraded office location, Academic Coaching approached our Visual Communication Fundamentals course to redesign a visual system that would help them engage more students. In particular, they had graduate students in mind.
After presentations and conversations with Academic Coaching, we looked to their website to gather more information.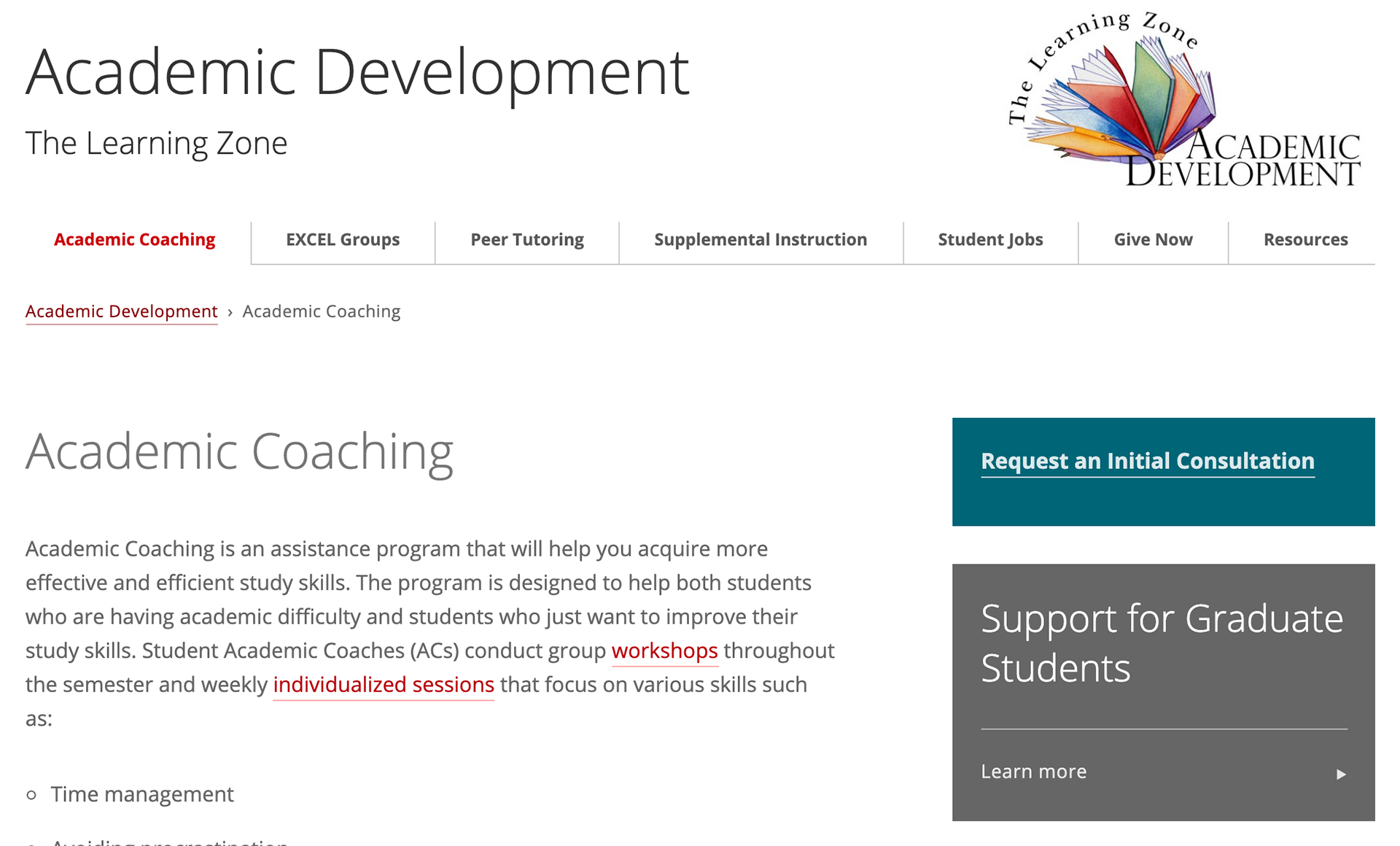 Among other concerns, we found the website to be text-heavy, void of the compelling results we had seen presented, and confusing to navigate. We knew right away we wanted to suggest some reorganizations.

We reviewed literature on positive psychology in academic coaching, which emphasized a strong mentor-mentee relationship, a focus on mentee strengths, and positive perception of available services as important influences on mentee results.
We also analyzed the webpages for academic services at other universities. These websites appeared personable and trustworthy thanks to student testimonials, coach bios, and intuitive content organization.

We decided what artifacts to deliver based on our research. 
Brand voice guidelines
would
 present a consistent, compelling message. 
An updated website site map
would better present services to students online. 
Website prototypes
would demonstrate new content organization.
Informational flyers
w
ould be placed in related offices to reflect the interconnectedness of CMU's student services. 
Tabloid posters 
would attract passing students to the updated website.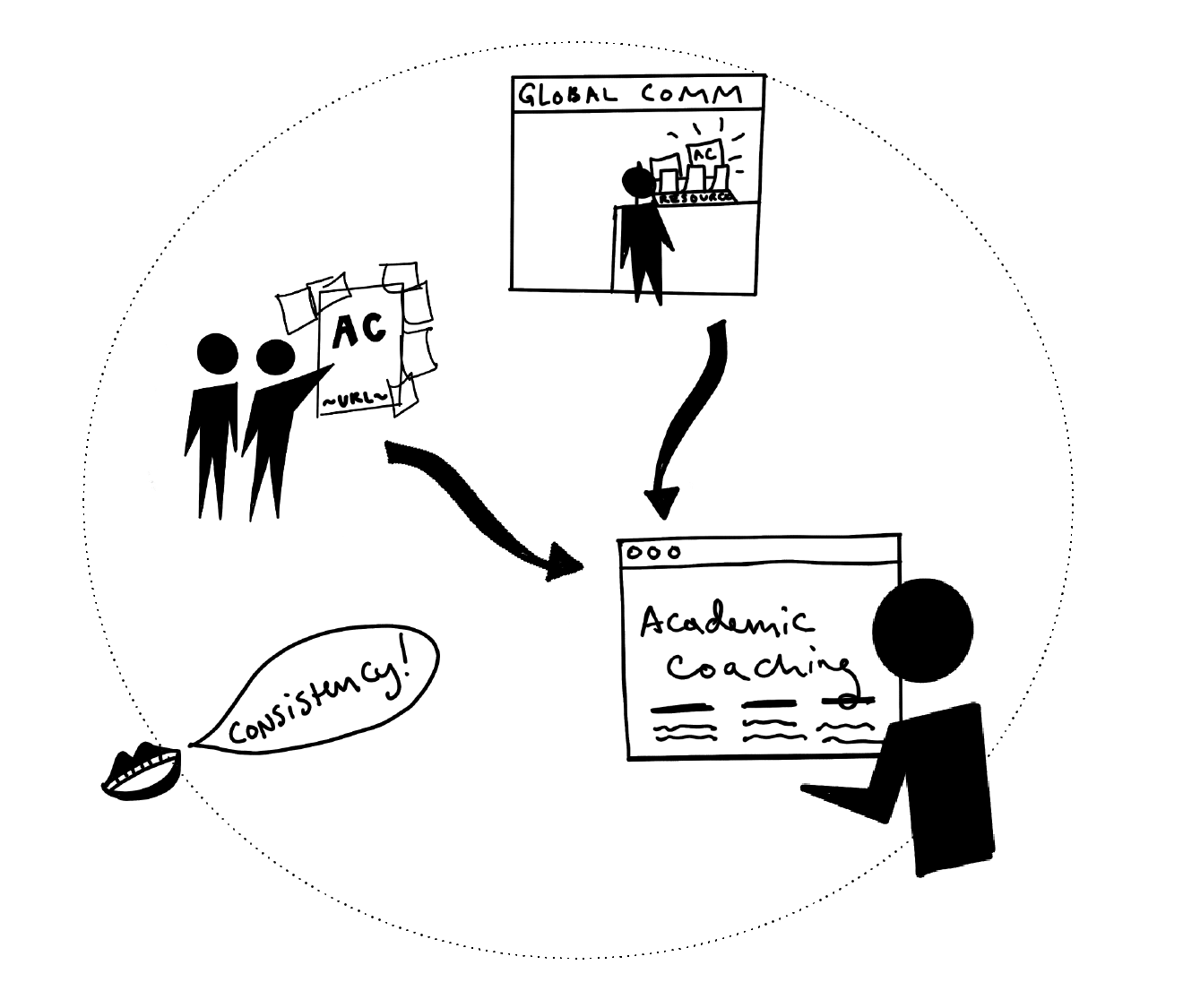 To hone our sense of Academic Coaching's brand, we created "this, not that" statements (e.g. "Supportive, not coddling") and aligned Academic Coaching with the 
Values in Action Character Strengths
, among other exercises. We used these insights to center voice guidelines around Academic Development's five core values, creating a description, do's and don'ts, word bank, and examples for each. 
We also saw an opportunity to repurpose Andrew Carnegie's famous declaration that "my heart is in the work" and encapsulate Academic Development's student-centeredness with a new slogan: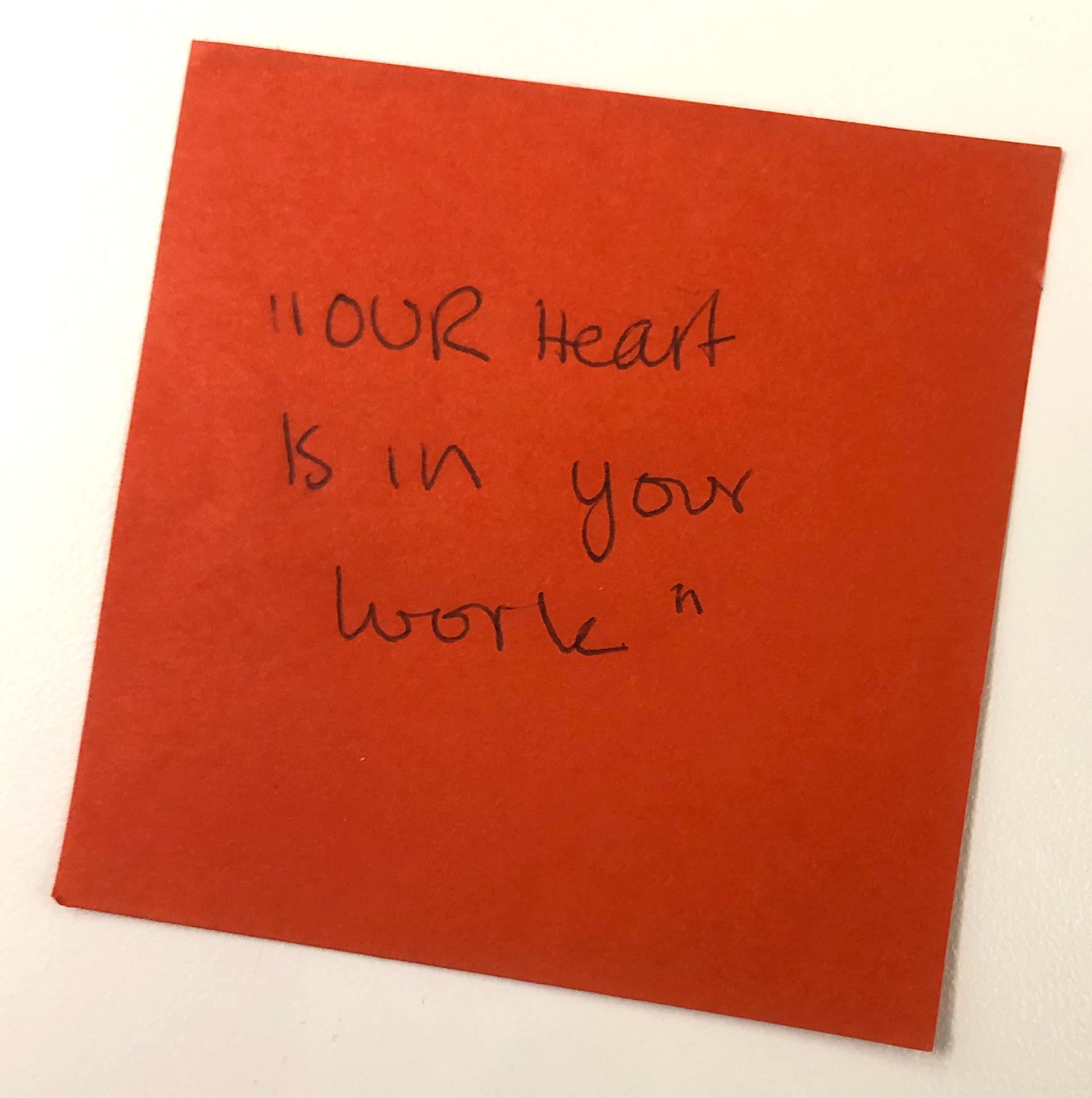 We first compiled all necessary content for the webpages on post-it notes, sketching wireframes on a whiteboard to organize where it should belong. With content in order, we made adjustments to the site map in Lucidchart.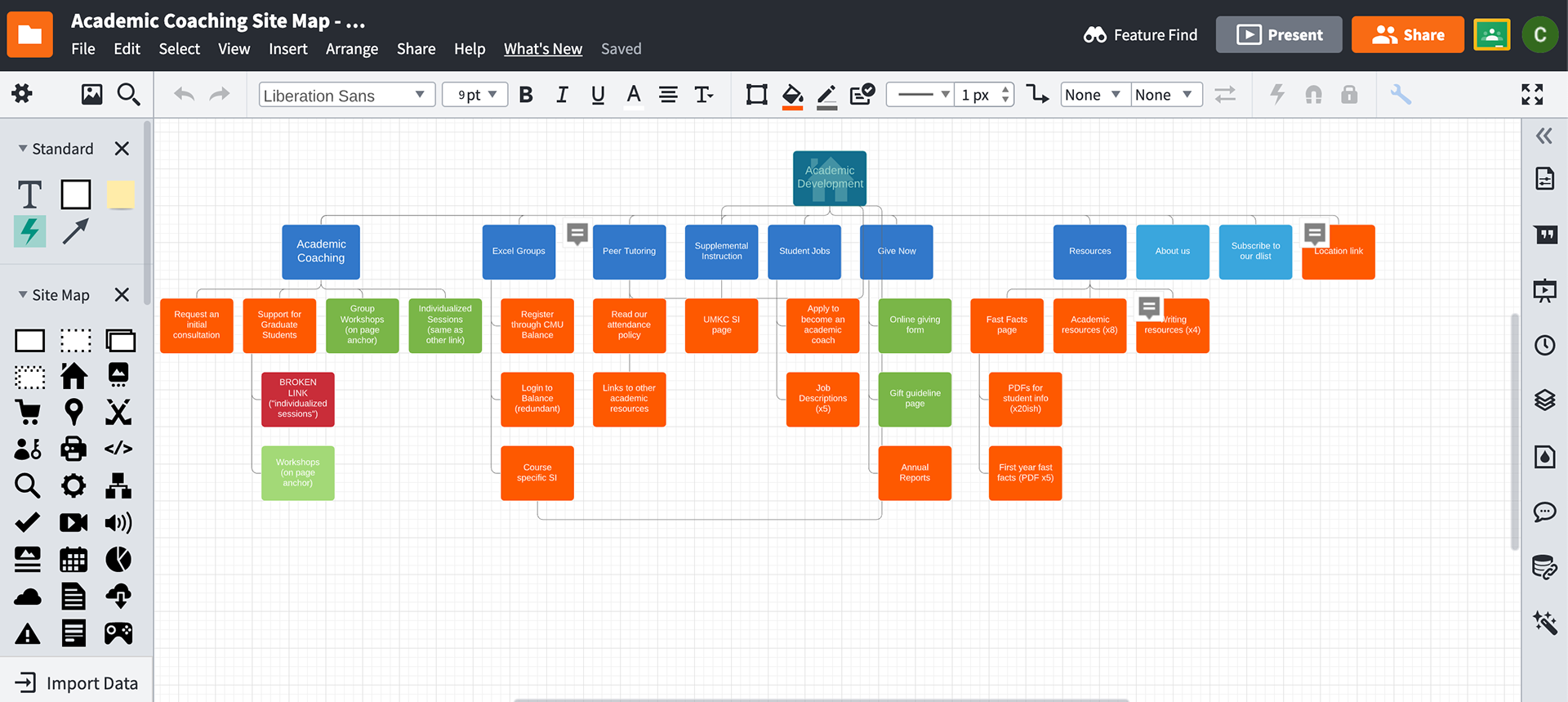 As we created wireframes in Figma, It became clear that Academic Coaching was an integrated part of Academic Development; we would need to propose a visual system for the Academic Development office as a whole.
We used XD and Illustrator to create wireframes, shown below, as our visual system evolved.
Logo.
I worked on developing a logo mark through sketch sprints and iterations in Illustrator. Concepts we considered included abstracting the flying books of the current logo, emphasizing growth through upward motion, and balancing friendly curves and bold angles to signal approachability and efficacy.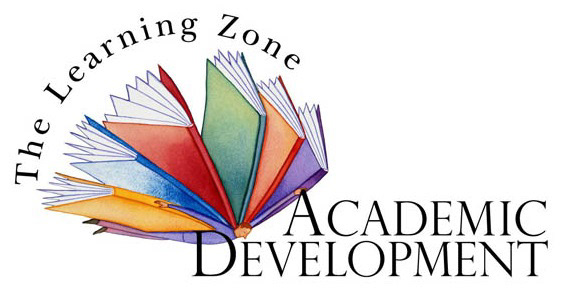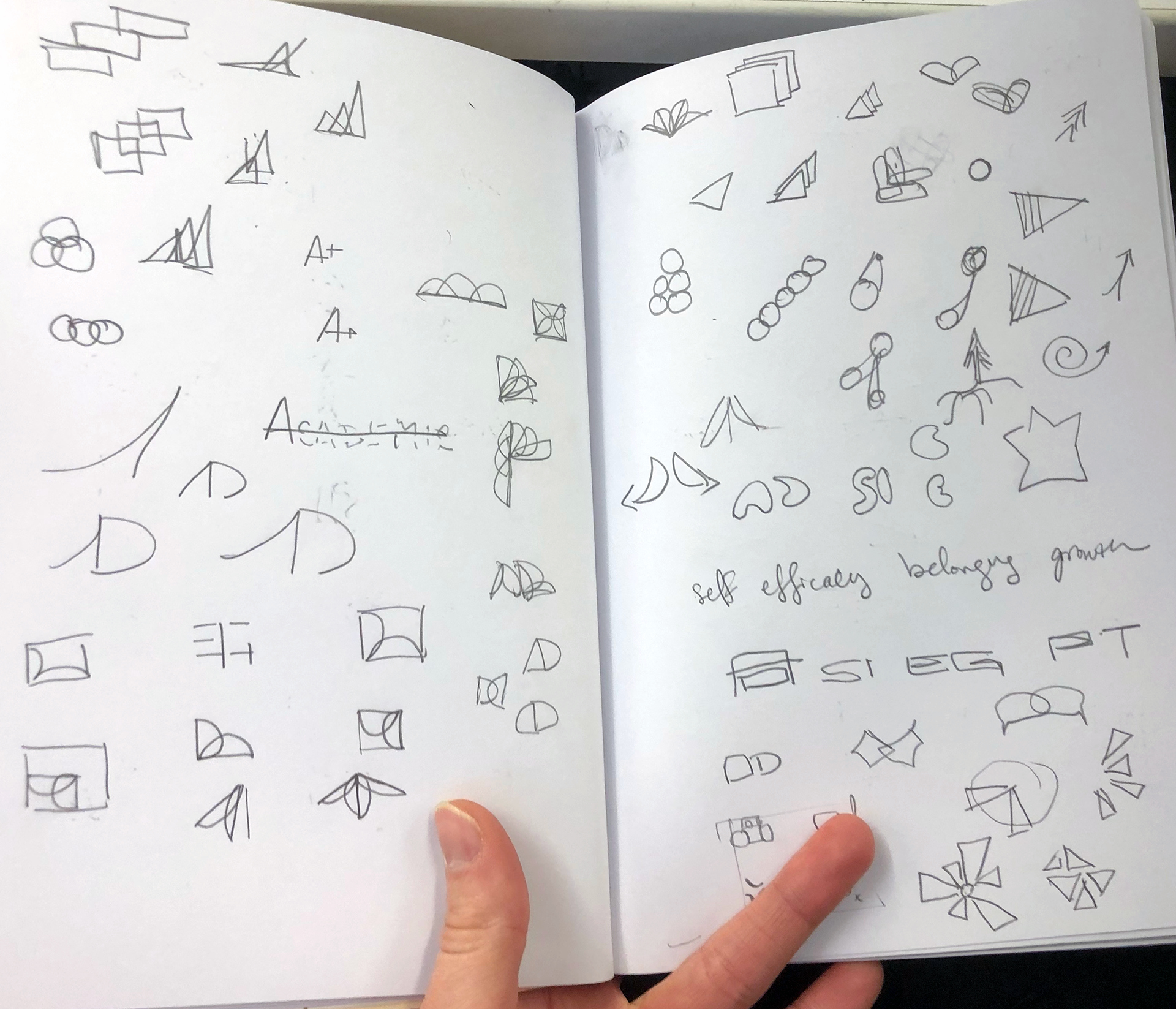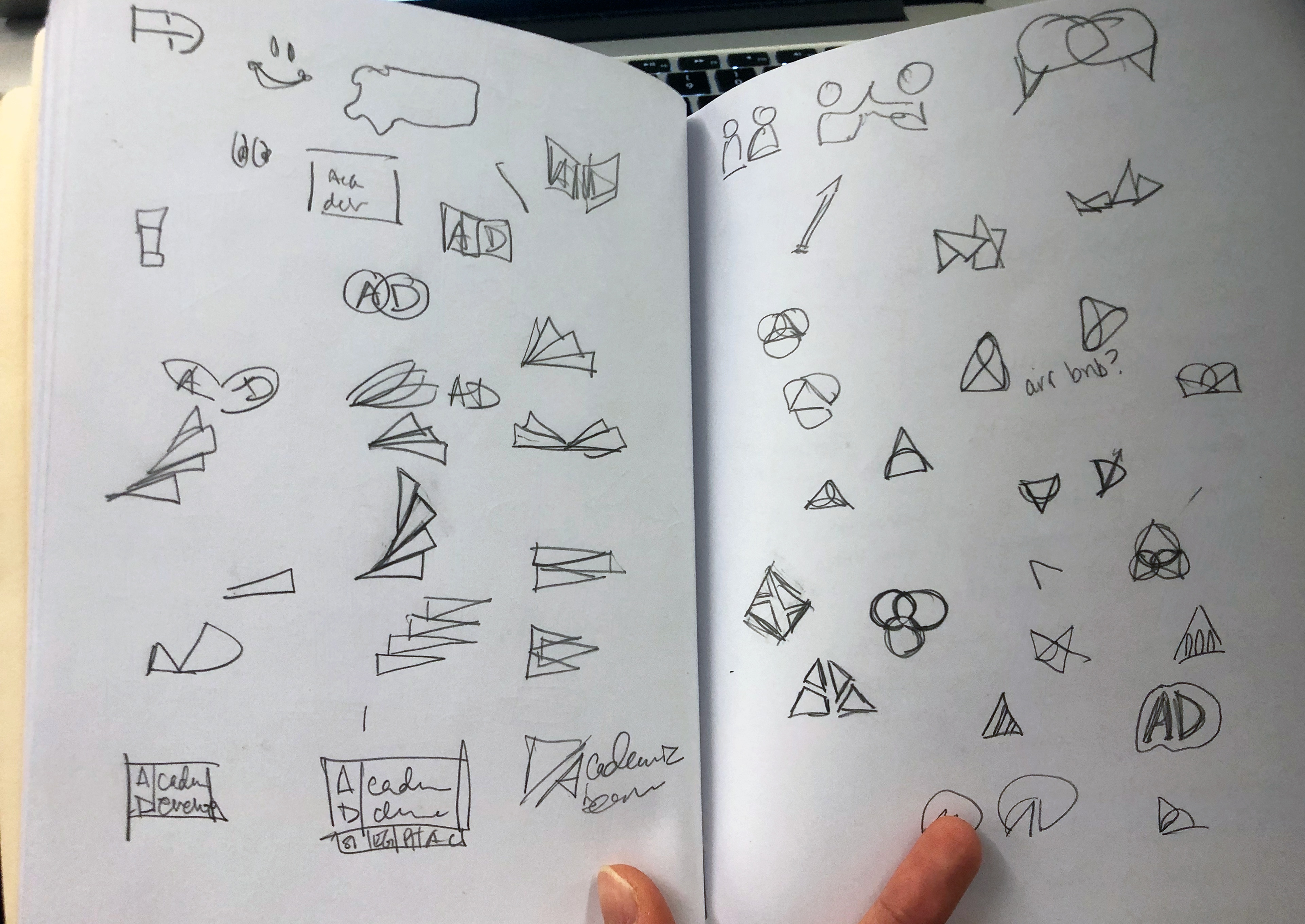 After some time away to reflect, I came back with a fresh idea that combined many of these themes. We paired it with a strong geometric font, ITC Avant Garde Gothic Pro, and used relative sizing to differentiate Academic Development from the services within:
Colors.
Academic Coaching had expressed that they were looking for bold and energetic visuals that still maintained some connection to CMU. We used bright colors from Carnegie Mellon's existing brand guidelines for the services within Academic Development, maintaining a dark, trustworthy blue for the department as a whole.
Fonts.
We wanted to incorporate the logo font, but did not want to stray entirely from the existing CMU brand fonts, Open Sans and Source Serif Pro. These would be used for body copy and ITC Avant Garde Gothic Pro would be used for headers.
Shan worked on creating a poster while I developed a flyer. These went through several iterations as we aligned our visual styles, ensured consistent type hierarchy, and incorporated feedback.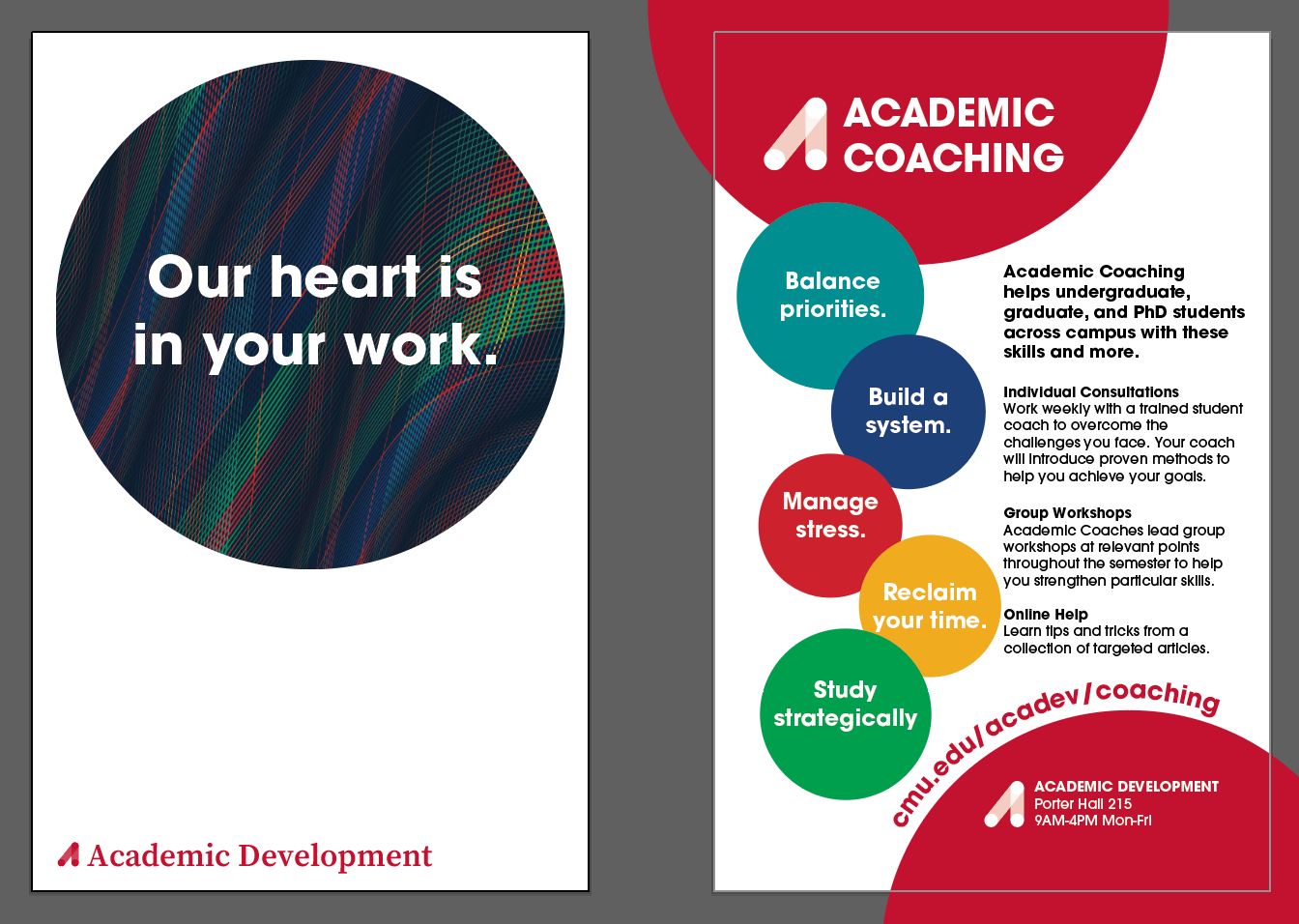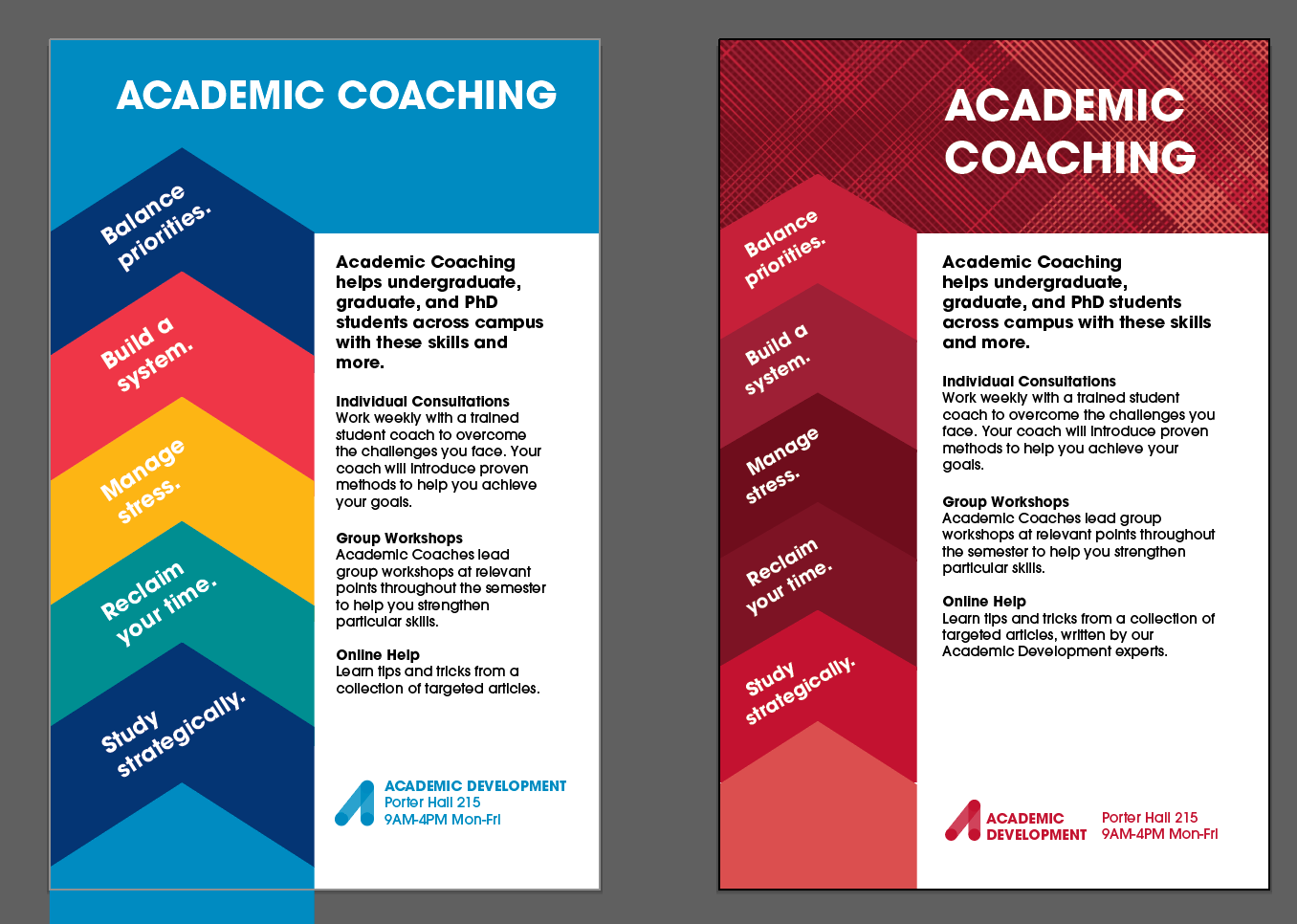 The final results lean heavily on the logo mark and bold fields of color that can be adjusted to fit the service described by the flyer.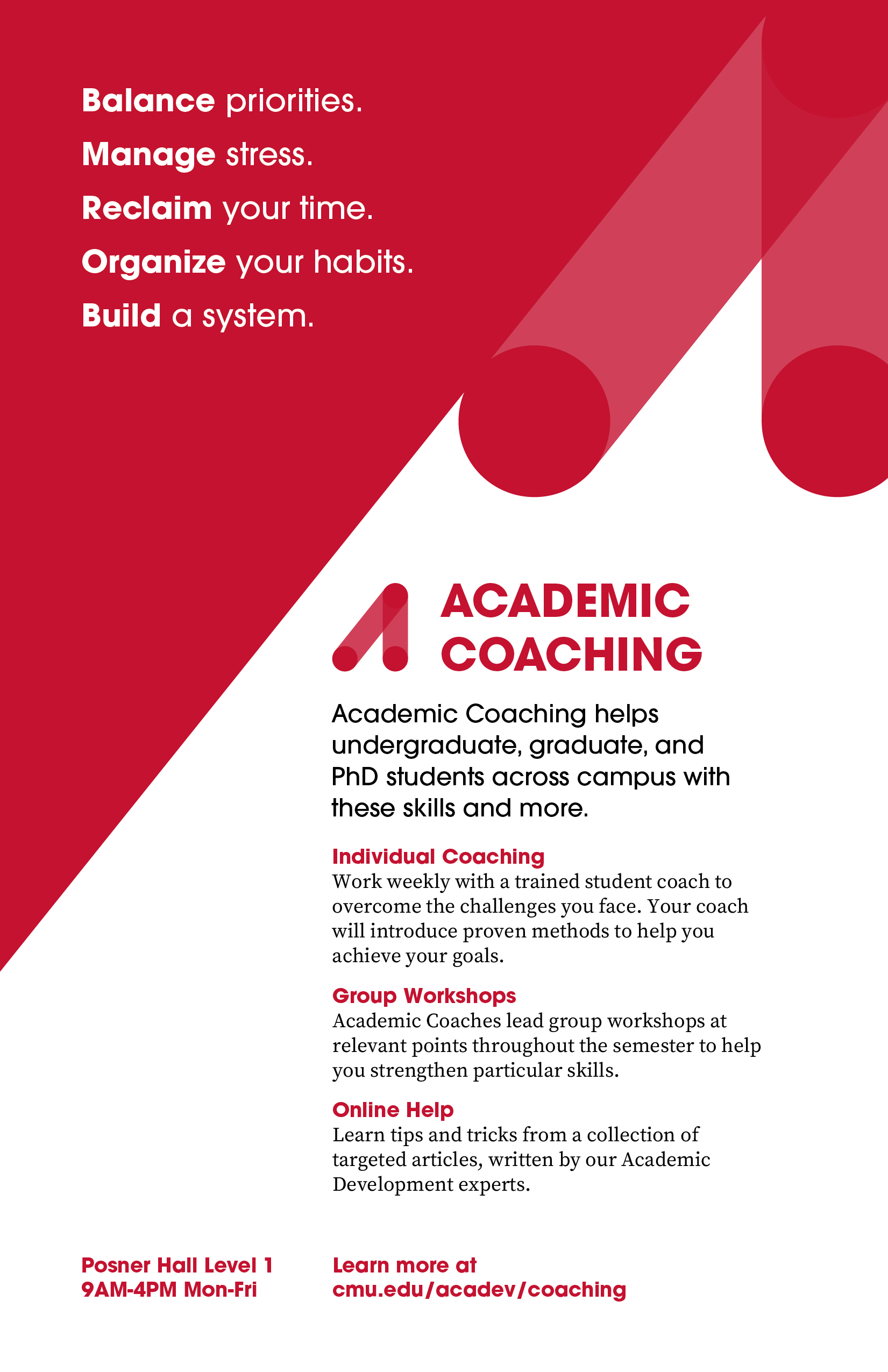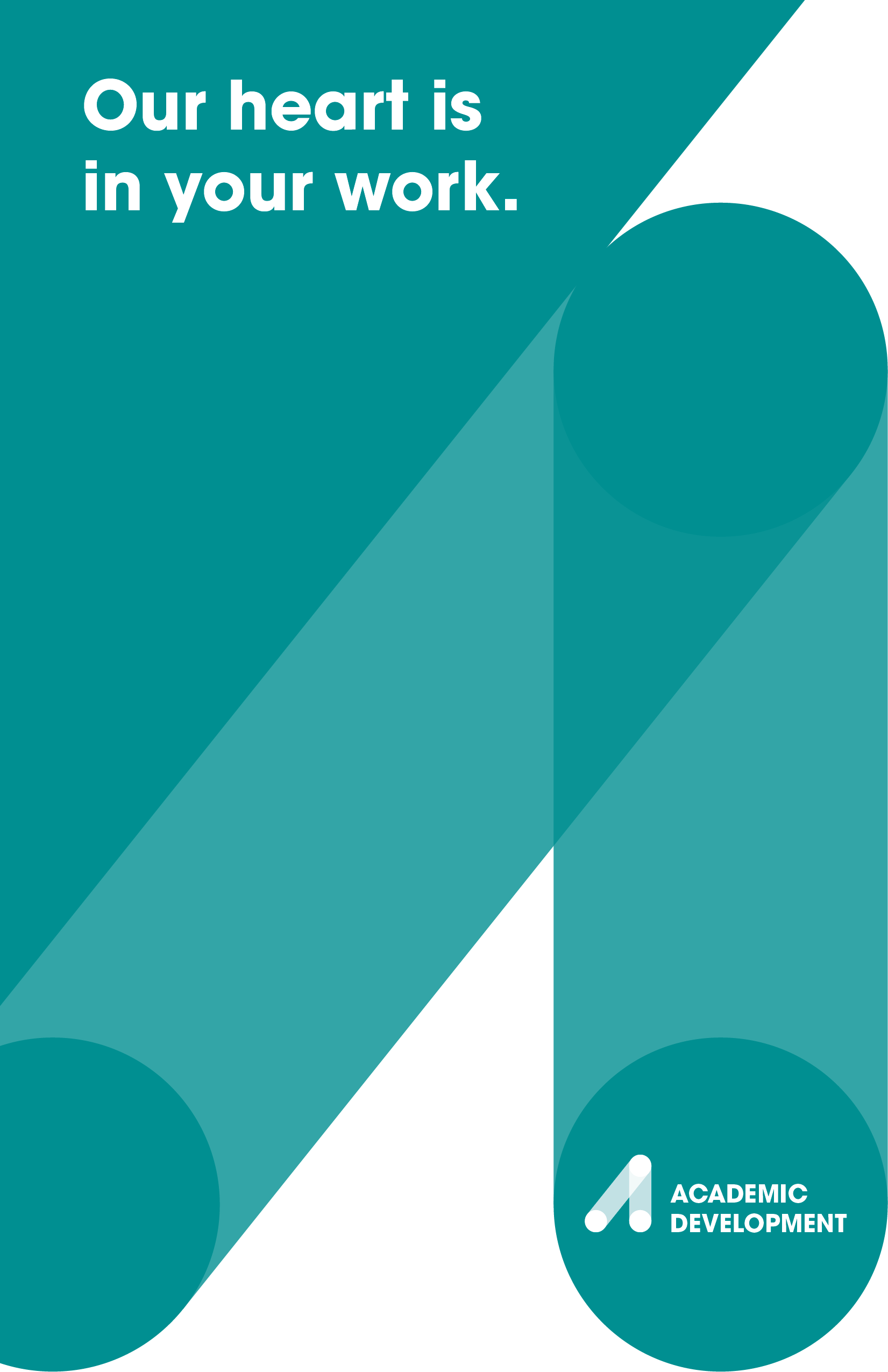 To put our visual system to the test, we leveraged the colors and fonts to create the brand guidelines booklet shown at the top of the page. We compiled the content in InDesign, including voice, font, color, logo, information architecture, and applications for the system. The final guide is clickable below.